PETER R. DE VRIES
1956 – 2021
On bended knee is no way to be free
Lifting up an empty cup, I ask silently
That all my destinations will accept the one that's me
So I can breathe
Circles they grow and they swallow people whole
Half their lives they say goodnight to wives they'll never know
Got a mind full of questions and a teacher in my soul
And so it goes
Don't come closer or I'll have to go
Owning me like gravity are places that pull
If ever there was someone to keep me at home
It would be you
Everyone I come across in cages they bought
They think of me and my wandering but
I'm never what they thought
Got my indignation but I'm pure in all my thoughts I'm alive
Wind in my hair I feel part of everywhere
Underneath my being is a road that disappeared
Late at night I hear the trees they're singing with the dead
Overhead
Leave it to me as I find a way to be
Consider me a satellite forever orbiting
I know all the rules but the rules did not know me
Guaranteed.
(Eddy Vedder – Guaranteed)
Hold On To Your True Friends
We are pleased to reveal Kae's latest Morrissey video for her cover 'Hold On To Your Friends'. The song was written by Steven Morrissey and Alain Whyte.
Thanks once more to Jos van de Bogert for the music and production.
In Loving Memory Of Bon Jovi, Mick, Zoë, Ozzy, Dude, Frunnic, Oma, Melvin and Rambi.
Very Special Thanks To Boris, Mick, Bowie, Nicky, Chica, Lala and Liva.
Courtesy of all sweet supporting actors and their humans.
Following the double A side single and music video, released previously on 5th February

the lyric video for

"There Is A Light That Never Goes Out"/ "Hold On To Your Friends" is out now.



The songs, both cover versions originally by The Smiths/Morrissey, are available:
There Is A Light That Never Goes Out c/w Hold On To Your Friends (The Smiths/Morrissey) (Teaser)
The double A side single will be released coming Friday, February 5th and can be listened to, streamed and downloaded via all of the regular platforms.
We appreciate your patience!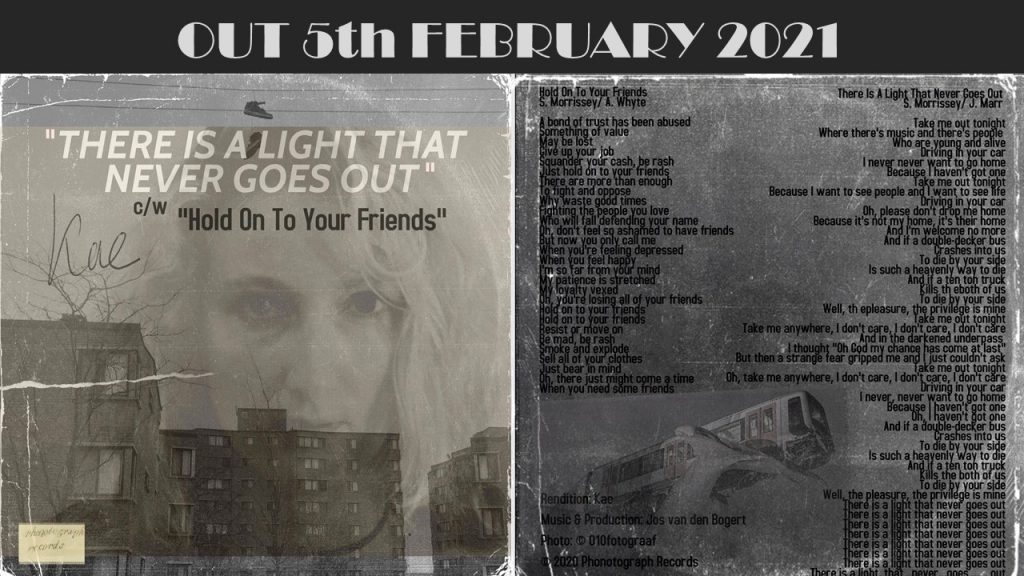 January 30, 2021
The Story So Far ..
Following up on Kae's releases in 2020, You Are Not Alone and before that the double A singles Meat Is Murder / De Confrontatie, I met instrumentalist Jos van den Bogert during one of the band rehearsals. Our shared interests in alternative music led to the recording of a number of cover demos.
In his own words, Jos is a bit of a hermit who feels most comfortable in a studio, slowly working on something that lasts. Jos studied classical guitar at the conservatory for two years and then studied musicology. From 1993 to 2005 he played bass guitar in The Essence, a band that has played a lot abroad and occasionally in the Netherlands. One CD, Glow, was released in 1995. Around 2010, Jos was briefly in a group performing his own work, left nothing behind, as well as, for two years, songs from The Cure, but unfortunately did not get around to gigs. What he admits that it does not help when he sets the bar quite high and is not easily satisfied.
Our collaboration is bearing fruit. Friday, February 5, new work will be released that can be listened to, streamed and downloaded via all of the regular platforms.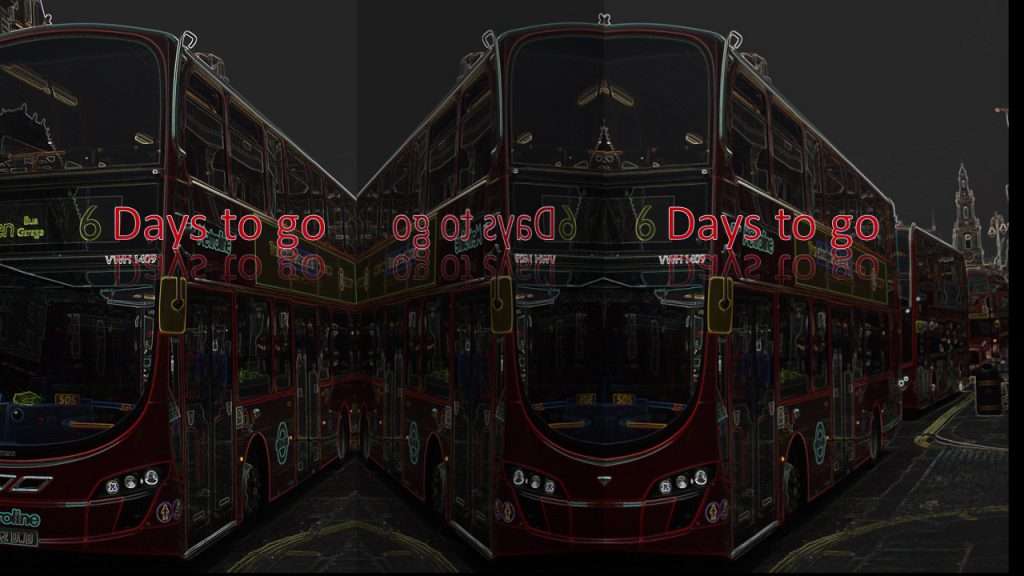 New Kae Solo Eight Days To Go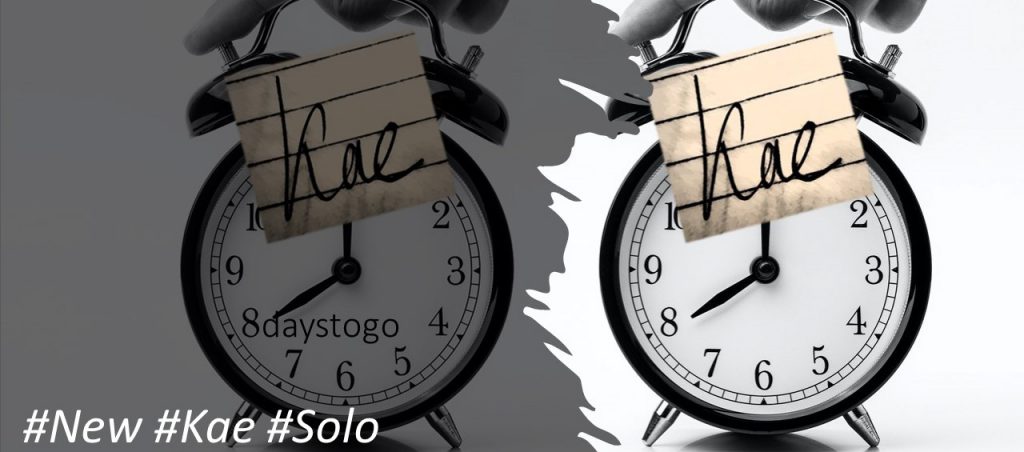 Departed Greatness Of A Christmas Tree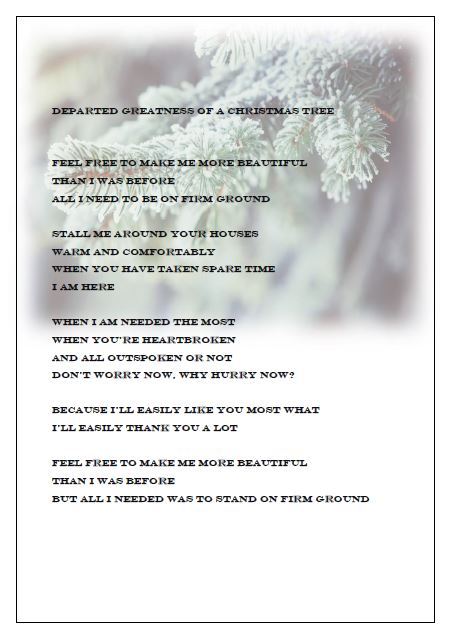 November 13, 2020
DE NEDERLANDSE UITVOERING VAN MEAT IS MURDER OP DE RADIO!!
Een radiomaker bereidt te vinden zijn nek uit te steken voor het draaien van alternatieve real-life muziek in zijn radioprogramma en die daarbij zelf de confrontatie niet schuwt, is in Nederland muziekland bijna niet voor te stellen. Daarom dank ik Kees Visser,  muziekliefhebber pur sang, icoon in nationaal radioland, uit de grond van mijn hart voor het draaien van mijn single De Confrontatie vanavond, de Nederlandse bewerking van Meat Is Murder van The Smiths uit 1985. Het is een meer dan eervol gebaar, omdat hij als eerste en enige radiomaker op dit moment met muziek een weg baant in de frontlinie tegen alle soorten dierenleed, wereldwijd.
Ik dank hierbij ook zijn trouwe luisteraars, die dit mede mogelijk hebben gemaakt!
"Dierenwelzijn is niet vertegenwoordigd in Nederlandse liedjes. "Meat Is Murder" is de song die in (inter)nationaal radioland niet gedraaid wordt en ik begrijp niet waarom dat zo is. Het is een gemiste kans, want dit lijflied kan helpen te leiden tot het sluiten van alle slachthuizen."
Moge dit de kentering zijn!
Vanavond, 20.00, WOS RADIO "STAGE"  https://wos.nl/radio/livestream
THE DUTCH VERSION OF "MEAT IS MURDER" IS ON THE RADIO!
It is hard to imagine, in this Dutch music scene, a radio producer who does not shy away from confrontation and who is willing to stick his neck out to play alternative real-life music on his show. That is why I would like to thank Kees Visser, music lover pur sang, icon in Dutch national radio, from the bottom of my heart for playing my single De Confrontatie, the Dutch adaptation of Meat Is Murder by The Smiths from 1985. It is more than an honorable gesture, because he is currently the first and only radio producer to be at the forefront of all kinds of issues of animal suffering worldwide.
I would also like to thank his loyal listeners, who have helped make this possible!
"Animal welfare is not represented in Dutch songs. "Meat Is Murder" is the song that is not played in (inter) national radio land and I don't understand why that is. It is a missed opportunity, because this anthem can help lead to the closure of all slaughterhouses. "
May this be the turning point!
Vanavond, 20.00, WOS RADIO "STAGE"  https://wos.nl/radio/livestream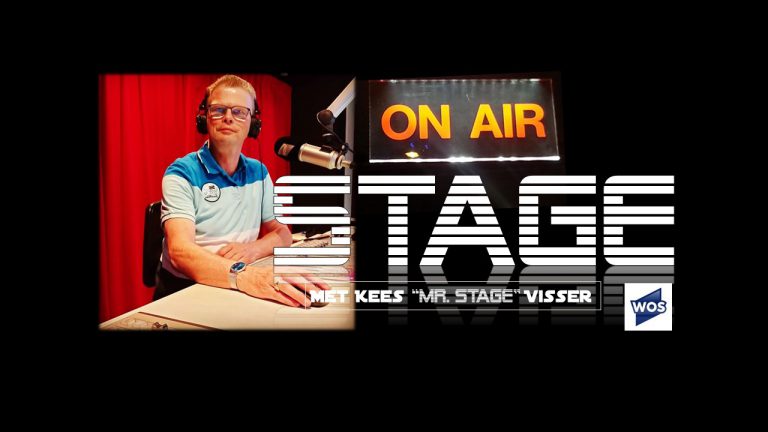 November 4, 2020
WHY OH WHY…..
R.I.P. Mike (55) 
R.I.P. Karibuna (Mike's junior successor)
FREE AT LAST
October 26, 2020
This was the initial design for the Meat Is Murder cover art. The guidelines (what should cover art comply with) did not match and another cover had to be made.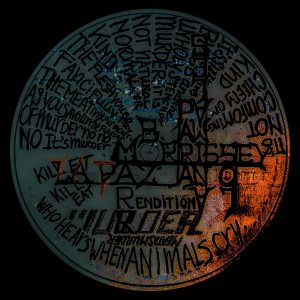 October 9, 2020
Kae's eigen versie van Meat Is Murder is getiteld "De Confrontatie" en is haar eerste uitgave in het Nederlands. De originele versie verscheen voor het eerst op het gelijknamige album in 1985, uitgegeven door Morrissey en Marr en geproduceerd door The Smiths.
Haar versie van het origineel,  Meat Is Murder, wordt ook officieel uitgebracht op 9 oktober.
"Dierenwelzijn is niet vertegenwoordigd in Nederlandse liedjes. "Meat Is Murder" is de song die in (inter)nationaal radioland niet gedraaid wordt en ik begrijp niet waarom dat zo is. Het is een gemiste kans, want dit lijflied kan helpen te leiden tot het sluiten van alle slachthuizen."
Kae's own version of Meat Is Murder entitled "De Confrontatie" is her first release in her native Dutch. The original version first appeared on the eponymous album released by Morrissey and Marr and produced by The Smiths in 1985.
Her version of the original Meat Is Murder will also be officially released on October 9th.
"Animal welfare is not represented in Dutch songs. Songs like "Meat Is Murder" are not represented in (inter)national radioland.
They are not broadcasted and I don't understand why. It is a missed opportunity because this anthem can help to close all slaughterhouses".
October 5, 2020
Kae's Meat Is Murder: Music Against Animal Abuse
Kae releases double A-side singles "De Confrontatie"/ "Meat Is Murder"
Kae's own version of Meat Is Murder entitled "De Confrontatie" will be officially released on October 9th and is her first release in her native Dutch. Her version of the original Meat Is Murder will also be officially released on October 9th. The original version first appeared on the eponymous album in 1985, produced by The Smiths. "Morrissey's music is a great source of inspiration for me. He's also my example when it comes to using music to fight animal suffering."
Kae is currently working with her band on new music and also recently started recording new wave music, including The Smiths and Morrissey, to be released soon.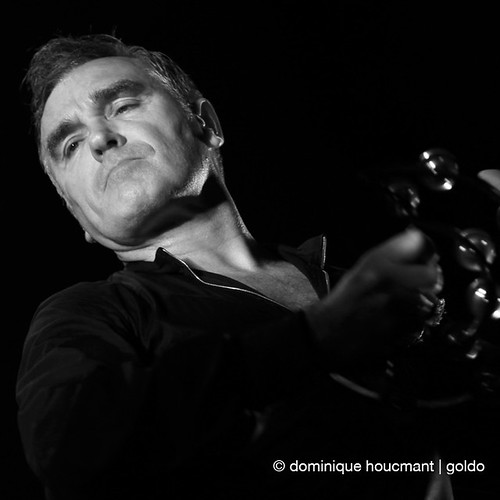 We kindly ask you to follow us on Spotify by clicking the follow button. 
This will be of great help. Thank you.

If you like our music you can share from Spotify on social media by clicking the "…more" button that appears when you scroll over the song. 
Thank you so much for listening to our music! 
Handwritten lyrics by Caelyn while making the official music video "You Are Not Alone".
Hello to all our listeners out there and to all who listen to STAGE RADIO and HOEX RADIO!
Partly because of the broadcasts Friday 17/7, 24/7 and Wednesday night 28/7,
our new song "You Are Not Alone" which was released on July 17th, has been listened to over 3000 times on Spotify, alone. We never expected this. Thank you so much and thank you for all the compliments.
Please, find both broadcasts here, with permission of and eternal thanks to hosts Kees Visser from Stage and Eric Schot and Mark Oosterwijk from Hoex Radio who made this possible.
Broadcast 17 th July STAGE RADIO – host Kees Visser
"En over geweldige muziek gesproken.." 
Wat een geweldige plaat is dit zeg!"
–  Kees Visser, Stage WOS Radio
Broadcast 24th July HOEX RADIO – hosts Eric Schot and Mark Oosterwijk
"Genieten met een grote G"
"Wij vinden dit briljant."
– Eric Schot, Hoex Radio
New Single "You Are Not Alone" Out Now
You Are Not Alone

is the first new release from Kae in 10 years and the inspiration for the track was Korine's 13 year old daughter, Caelyn. 
"Just as we went into lockdown, I asked my daughter if she would like to help making the music video to accompany the song and I couldn't have been happier when she said yes.
Korine often courts controversy with her forthright opinions – endorsing vegetarianism and animal rights and questioning social issues in the Netherlands, such as bullying and violence among children, in this particular case, something that is very close to home.
So, after 10 years, Friday 17th July will see not only the release of Kae's new song "You Are Not Alone" but also her debut on her new label, Phonotograph Records.
The song was written by Alex von Elzer/

Korine Varekamp

and produced by Tom Pearce.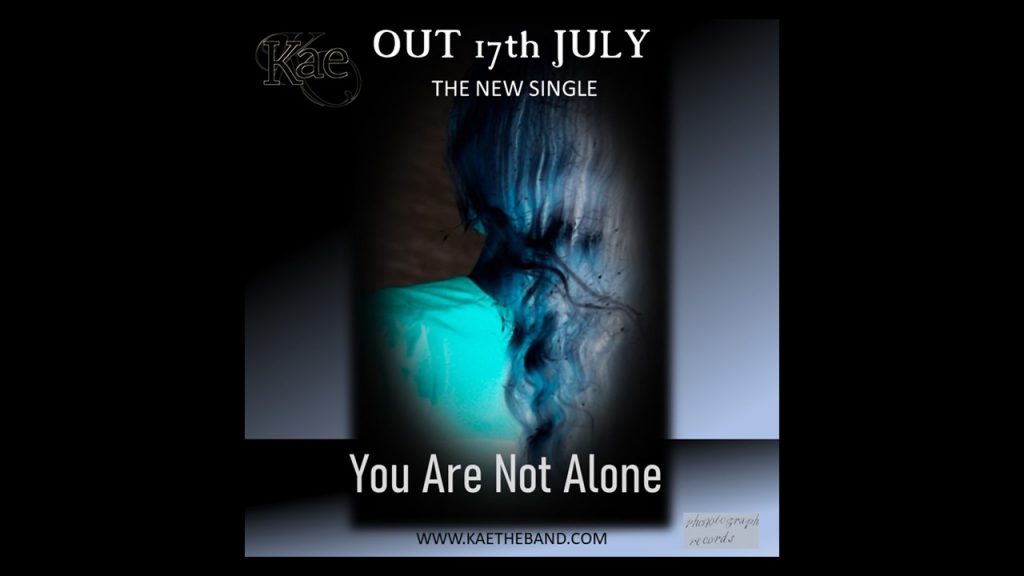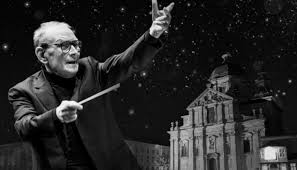 July 6, 2020
THE MASTER HAS DIED.
Musical life will never be the same again –
Ennio Morricone, R.I.P.
What you gave us, I have no words…..Thank You for your Music.
I was so lucky, a few years ago, to see this man perform live. He was the Mozart, the Beethoven, the Bach of our time. Who hasn't deeply enjoyed his music?
You are the one who can say: I was there, being so priviledged to have lived in the same time as The Master Of Music did –
Master Morricone: Our deepest gratitude.
June 17, 2020
It Never Occurred To Me That You're The Only Fun I Had Until You're Gone…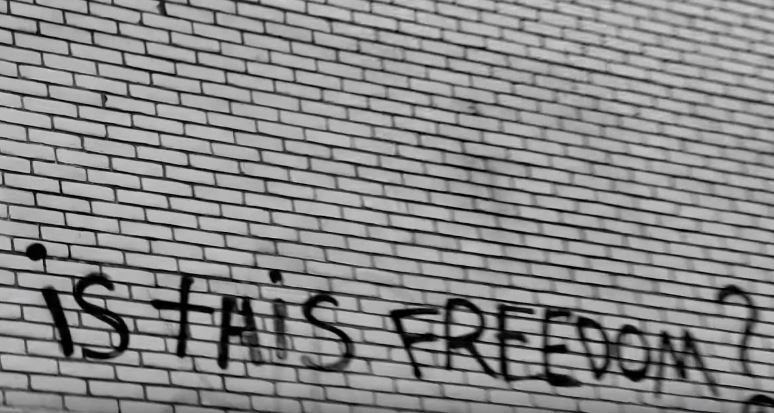 Hello everyone!



In order to take charge of own music and thus own life, I decided a few months ago to create a record label, Phonotograph Records. I'm more than happy that I finally took this step forward and I am very grateful for the support I had to make this come true. From now on it's going to be really exciting…! 
Ten years ago, Kae released her debut ep "The Omen".
The songs were recorded at studios The Box in Katwijk and mixed and produced by Tom Pearce and all tracks will be re-released, by the new label, of which a preview below!
The forthcoming reissue, the new-line up, an interview with Korine (by Stuart Douglas) the pre-release clip, new music, will be all on this page.

Hope you like it so far and if you do sharing is very much appreciated.
In these bizarre times, music is perhaps more than ever a welcome addition to (or distraction from) everyday life.
Extract from interview with Korine, by S. Douglas, Jan. 2020

What is your musical background and have you always been involved in Music?
I grew up with a dad who loved classical music and a mum who loved Cliff Richard. I remember listening to the radio was a favourite thing to do. Every Saturday morning my father tuned into a programm called "Arbeidsvitaminen". I loved it. The first single I bought was from Blondie. But I completely devoted myself to ABBA when I was about 7 years old.
What I remember was enjoying singing so much at a very young age and that I tried to write lyrics with the help of an old dictionary, as good as I possibly could for a ten year old.
One of my favourite things to do some time later I remember was making my own stars-on-45 tapes (Does anybody remember this music?) By using two portable cassette recorders and a mic you could make some awesome music yourself! Who needed the "Eddy Go Round Show" or "Arbeidsvitaminen"?
One night in 1976 my parents woke me (still very grateful for that because they created this wonderful memory!) and I watched Dancing Queen on a late night tv special sitting on my father's lap and I was in "Aw" constantly since then. I made sure I got to know everything about those four and have all of their music. I would decorate my entire bedroom with every item I could find. I wallpapered ABBA posters and out takes from music magazines (even the tiniest picture wasn't wasted on me and got glued with utter respect and pride to the perfect spot) every where in my room and on the ceiling. I was completely under the ABBA spell.
As soon as I was old enough I began to play the recorder which must have sounded awful – I remember my sister covering her ears and begging me to stop – but hey! I learned to read some basic notes. My grandfather always listened (Poor man, he did without earplugs) and encouraged me often called me "His child prodigy".  He was so proud of me and I will never forget that.
The piano, too, had hugh appeal to me. So the piano followed – in my mind that is – because an electronic organ would do too according to my parents and because it came with headphones something the neighbours at least appreciated.
I enthusiastically took a few lessons. I never practiced so after some time the organ unfortunately became an untouched piece of furniture. I kept on singing but it was not until high school that people other than my parents like my musical teacher could notice I loved it. However, I didn't want to join a choir or such. I really didn't had the courage. I'd rather be sitting in my room sang along with cool songs.
Through the years off and on I took some singing lessons and sang in several bands. The first song I wrote was Phenomenon and in a band called Angels Of Silence I got the chance to perform it. After the Angels split Alex Elzer (co-writer Kae) and I met and we started writing songs together for the project we called Silent Project Cooperation which soon let to the birth of Kae in 2011.
What genre would you consider your music?
I think in the alternative dark/pop/rock genre.
Where do you think you fit into the Dutch music scene and how is the Dutch music scene?
I really don't know if we're going to fit into the Dutch music scene with this song or any of our songs, let alone where. More and more the Dutch music scene tries to change into a scene where músic is standing in the middle of the attention again, regardless of genre, age or class and I think that is a good thing. The Dutch scene is not only consisting of people who aren't done yet with The Voice of Holland. Making music is something you do, and is not something you do and use for becoming immensely famous – including the jury and at the expense of the contestants- but, as we all know, that does still happen very very often! A lot of musical venues were forced closures due to lack of artists or to budget cuts and that is such a shame. The music scene is one to enjoy live, if you can. Music is there for you to experience the very moment and the lyrics are there to listen to so you know. And so it should be.
Who are your musical influences?
"After" ABBA I listened to Madness and Doe Maar – a Dutch Ska-band performed relevant music – a bunch of very cool guys, still good looking today and still performing 40 years later – Madonna and Michael Jackson. But there had to be more, right? At that time I really liked sounds in minor, I still do and they strangely make me very happy. The green "record van" at the corner of the library saved me I think. Among others I discovered Black and eventually Portishead, Sparks, The Smiths and Morrissey. (Where have they been all that time?)
Musically what are you most proud of?
I think of the cooperation with all musicians. If it wasn't for them I couldn't have been doing what I am doing today. The very first time "Phenomenon" was played by Kae also happened to be the very first song I wrote is also a highlight to me.
Many of your songs have serious content is that intentional or are you just a serious person?  
I try to not take life too seriously but I often fail. As I look around and I see bad things happening. Children being molested at the playground. Children who suffer so much they take their own life. Animals being abused and murdered for humanity. How can you not take that seriously? Someone once asked me why I am mostly showing up with melancholycal songs while I am actually a very optimistic person. I just can't write about love when I see so much dishonesty.
What are your future projects with KAE and do you see any live dates with the band on the horizon?
Currently we focus on the recording of an ep containing 5 songs. The line-up is completely new and we need time to finish the product as good as possible. After the release we might get a possibility to climb back on stage but this depends on whether the ep will be appreciated or not. We'll have to wait and see.
Also, to mark the 10th anniversary of the ep "The Omen" we will reissue the title song from the album next month via Phonotograph Records.

I was very interested to see the line up of KAE included your 18 year old son Kay , how does that dynamic work and do you think it inhibits either of you in any way?
I could never have predicted that myself haha! But I am very happy he is on board. Last year I had to look for a second guitarist and Kay was standing right in front of me. The thought pondered asking him. The average age within the band is higher than 25  and this could mean worlds being to far apart. I wouldn't either want him to join in just to help me out. Most importantly, Kay is a college student and the scarce free time he has got should always be spent the way he prefers. Joining a band is awesome but always comes with obligations. During rehearsing, discussing band affairs and making band decisions I am not his mother. And that seems to work out well. By keeping the distance that way we could all relate to the same level which will mean a healthy balance between all band members. In good conscience, I'm very happy with this line-up.
What's the message you are trying to send to your audience?
I try to convey what is important to me and when people can connect with the song and subject I am more than happy. Staying true to one self is a hard thing to accomplish these days. It is mainly all about the outside – music business included. I could easily climb on stage dressed in a garbage bag when I feel I'm being treated like rubbish or in a jute bag when I think I'm having a bad hair day or so just to make a statement. But that would be all it is.
My favourite song you have done is the Demo version of a fantastic song Did you get what you came here for , do you have any plans to do a full studio version of this song?
Thank you so much, Stuart. Yes! I think it is going to end up on the EP – at last!